Deliver Me from Darkness
Book one in The Paladin Warriors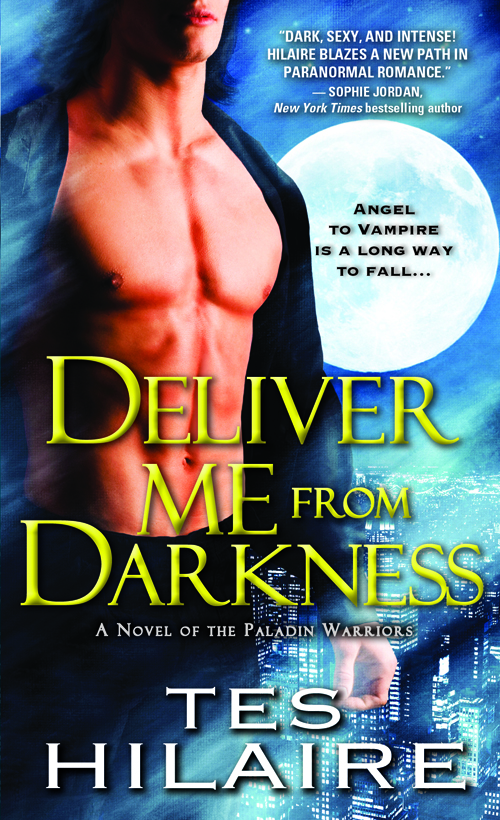 A stranger in the night…
He had once been a warrior of the Light, one of the revered Paladin. A protector. But now he lives in darkness, and the shadows are his sanctuary. Every day is a struggle to overcome the bloodlust. Especially the day Karissa shows up on his doorstep.
Comes knocking on the door…
She is light and bright everything beautiful—despite her scratches and torn clothes. Every creature of the night is after her. So is every male Paladin. Because Karissa is the last female of their kind. But she is his. He may not have a soul, but he can't deny his heart.
Avaliable Now from Your Favorite Bookseller:
                  
   
What the Reviews are saying on Deliver Me from Darkness:
"If you're into vampires, demons, and other otherworldly creatures, if you like your action fast and furious, if you want a hero to die for and a heroine he'll die for, I think you should start here. This book and this series has it all." -Sandy M at The Good, Bad, and Unread.
"With a new twist on an old myth, action, suspense, romance, a sexy hero with just the right amount of alpha boiling underneath and a smart heroine. I knew I would love this story by the end of the first page." –Sharon S. at Love Romance Passion
"The first book in the Paladin Warriors series, Deliver Me From Darkness, starts off with a bang." – from DebsBookBag
"From setting the scene on multiple fronts, laying down the rules of the universe, introducing the characters, to sowing the seeds of forbidden passion and love… everything races toward an unexpectedly epic ending." –Sue at Urban Girl Reader
"I found Deliver Me From Darkness a moving read. It was dark and tragic and I liked how it was ultimately about redemption for Roland. -Kristie at Dark Faerie Tales
"The premise for this novel was unique and engaging, and in a genre flooded with vampire stories so similar to each other, that's an impressive accomplishment." –DAVinci Kittie at GraveTells
"Tes Hilaire's first book in the new Paladin Warriors Series, Deliver Me From Darkness, engages us in a new world of light and dark fraught with Angels, Demons, Vampires and just enough romance, angst and action to leave us eagerly awaiting the next installment." -Ms. Bliss at When Pen Met Paper
"Deliver Me From Darkness is awesome, action packed right from the very beginning." –Wanda Plourde at BookLoons
"I finished this one in one night.  – Heather at booklightslatenights
"…this book is a game changer for me. I am excited about paranormal again." –Christi Snow at Smitten with Reading
"Sexy warrior men… check, vampires… check, demons… check. What more could a girl ask for in a new series? Well, not much more really and Tes Hilaire's Deliver Me from Darkness delivers it all." –Nicole from Literary Escapism
"A heart-warming romance, kick-ass powers, a tender-hearted brooding vampire and so many other yummy characters? Can I say 'please madam I would like some more?' Yes I can and I definitely do." –Blaire Daniels from The ParaRomance Club
"Ms. Hilaire has written a fast paced story about good and evil and the gray parts in between." –Aloe from Long and Short Review
"This is a solid and very readable mining of the 'eternal warrior with only one mate' storyline. The novel tracks well, with the heroes and villains clearly defined. The author does a good job of setting up the world in this series starter." –RT Book Reviews
"…Karissa's suspicious nature is refreshing, and Roland's fight against his inner monster is well drawn. Readers looking for a series with plenty of magic and intrigue but few complex ethical dilemmas will be hooked." –Publishers Weekly
"…The first Paladin Warrior romantic urban fantasy is a wonderful thriller in which the paranormal Hilaire world is firmly established so that readers understand who's on whose side of the war while believing that demons, vampires and paladins walk the streets of Manhattan. Fast-paced, fans will enjoy the star-crossed romance between the female paladin and her vampiric soul mate. — Harriet Klausner from Alternative-worlds.com