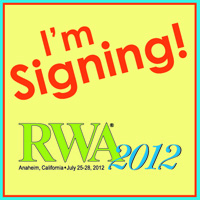 I'll be signing at RWA 2012 Literacy for Life signing!
I'm so excited to be part of this great program and hope that if you're there that you'll stop in and say HI!  You can find me at both #806.  Have some other awesome authors you want to stop in at? Check out the layout for the signing this year (hint: it's not alphabetical!)  Of course, you really really do want to stop in and say Hi to me… Why you may ask? Well, because if you do, and if you stop by 9 of my dear friends, you could get a chance to win your very own Kindle Fire!  I mean WOW! A kindle FIRE??? I don't even have one of those babies yet… Guess I'll have to live vicariously through you all

  So stop in and enter to win!!!